The Stars Just Up the Street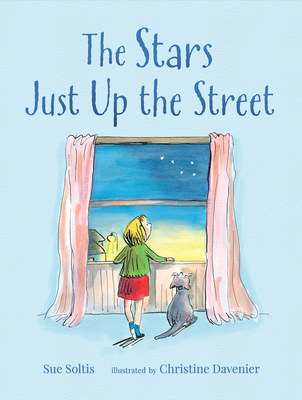 "A lovely picture book which reminds us of the joy of taking time to do quiet things."
–BookTrust, booktrust.org.uk

"It takes a village to control light pollution…gently inspirational."
– Kirkus Reviews

"…captivating….An inviting picture book to share with children."
– Booklist

"Davenier (Snowy Race), whose talents seem tailor-made for this material, matches the text's plainspoken momentum. Animated ink washes capture both Mabel's earnest determination and the wonder of what means so much to her: a dark night sky of deep blue and lavender, gloriously dotted with stars."
—Publishers Weekly

"...an eye-opening introduction for youngsters to thoughtful pushback against a big manmade change."
—Bulletin of the Center for Children's Books
Mabel loves the stars. She can count a few from her bedroom window, and more from the tree in her backyard. But her grandfather saw thousands of stars when he was a boy, and Mabel is determined to see that many too. So begins Mabel's quest. Along the way, she enlists help from the neighbors and spreads the word to the people she and Grandpa meet. But how can she convince a reluctant mayor to turn off the street lights—even for just one night?
Nothing Like a Puffin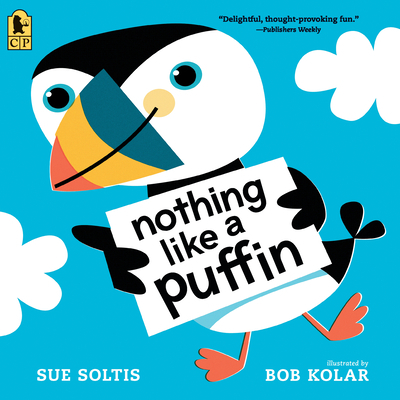 Celebrating 10 years in print in 2021 with the new paperback edition!
A ladder is NOTHING like a puffin. A house is NOTHING like a puffin. A newspaper is NOTHING like a puffin—or are they more alike than you might think?

Follow a charmingly mischievous puffin in this entertaining game of compare and contrast, and find yourself looking at everyday things in a new way!
"…(an) engaging, cheerful and astonishingly simple taxonomic exercise, filled with humor and a dynamic conversational style
—Kirkus Reviews (starred review)

"The ultimate comparison study for young readers."
—School Library Journal

"Kids will easily pick up the game; be prepared to read this one again and again."
—The Horn Book

"A charming debut picture book… The simple text is likely to draw children in with its conversational tone as well as its cliffhanger page-turns… A fun, thought-provoking look at how we classify the world around us."
-Booklist
The Moon Moved In
Forthcoming, Chronicle Books (2025), illustrated by Sonia Sánchez
Stella makes an unexpected friend when the Moon moves in.
About
Ever since she started writing poems in a Snoopy notebook at age 12, Sue Soltis been hooked on writing. As a child, she could be found in a tree with a book, on the back porch pretending it was a roller skating rink, or walking through the cornfield to a friend's house. Visiting relatives in the nearby city, she was fascinated by alleyways, the daily ice cream truck, and the grapes growing in tiny yards.

Her published children's books have ranged from concept book to realistic story to imaginative story – but it is all in keeping with a vision of the importance of logic and of language itself—and of the idea that hearing and reading stories is essential for critical thinking. Picture books that make kids think—and hopefully everyone else too!

In 2021, Nothing Like a Puffin, her first picture book, celebrated 10 years in print by coming out in paperback! The book (illustrated by Bob Kolar, published by Candlewick Press) is a Charlotte Zolotow Award Highly Commended Title (2012); was selected for "The Schoolies—Best Picture Books of 2011" (Top Teaching blog, Scholastic); was featured in Time Out New York; and received a starred review in Kirkus Reviews.

Her second picture book The Stars Just Up the Street (Candlewick Press), illustrated by Christine Davenier, came out in March 2020, and was featured in The Wall Street Journal, listed on DarkSky.org's recommended books for 2021, and named on Smithsonian Air and Space Magazine's round-up of the best aviation- and space-themed books for young readers (2020).

Currently, she lives with her family in North Carolina, where she's trying to help little invertebrates in the yard by planting native trees and flowers, hosting solitary bees, and composting—some of which you'll find in her next picture book The Moon Moved In, illustrated by Sonia Sánchez (illustrator of the award-winning Evelyn Del Rey is Moving Away, written by Meg Medina), forthcoming from Chronicle Books in 2023.